These magnificent islands and atolls, consisting of the Alphonse Group of Islands – the stunning trio of Alphonse Island, St François Island and Bijoutier Island and the other beautiful atolls of Cosmoledo Atoll, Astove Atoll, Poivre Atoll and the resplendent Amirante Islands are found south of the equator in the heart of the Indian Ocean. These range between 400 and 1 055 kilometres south-west of Mahé, the main island of the Seychelles. They are blessed with one of the world's healthiest climates, with miles of unblemished shorelines, lagoons and sea flats. The isolation of these islands and atolls creates an atmosphere of undisturbed solitude where you can immerse yourself in the natural wonders and exceptional experiences they have to offer. Considered some of the untouched Edens of the world, these outer islands and atolls of the Seychelles have an unparalleled biome of diversity and abundance, making them a nature lover's paradise which begs to be discovered and explored. 
What is Blue Safari Seychelles? Safari is a Swahili word taken from the Arabic, safar 'to journey'. Blue is the predominant colour in the area, and if it's your time to journey into the unknown; to seek out excitement and adventure, to walk amongst mangroves, free-living giant land tortoises and wild spaces, then read on… Blue Safari Seychelles is a journey like no other, allowing the most remote and pristine outer islands and atolls of the Seychelles to be explored… Blue Safari Seychelles will not only protect and conserve the ecosystems of these captivating islands and atolls, but it will also revolutionise experiential travel. Discover the magnificence of Alphonse, Cosmoledo, Astove, Poivre and the Amirante Islands by air, land and ocean. Be led by our team of expert rangers, marine biologists, dive masters, fly fishing guides, boat captains, conservationists and ecologists.
The outer islands and atolls of the Seychelles are rich in flora and fauna, with an assorted array of aquatic mammals, reptiles and fish. Blue Safari Seychelles will enable guests to explore and discover the diverse wildlife and environments that exist on these incredible islands and atolls. Varying species of birds (close to 188 different types) have been recorded on the islands and atolls of Alphonse, Cosmoledo, Astove and Poivre. These habitats are home to a plentiful selection of seabirds and waders and form part of the 20 dedicated ornithology areas in the Seychelles.
Blue Safari Seychelles enables guests to encounter the giant Aldabra tortoise (the oldest living creatures on earth) in their natural surroundings. Whilst swimming in the Indian Ocean, guests can observe hawksbill and green turtles that populate the crystal clear, azure waters. These magnificent creatures often nest year round on the beaches of Alphonse, Cosmoledo, Astove and Poivre. The waters surrounding the islands and atolls are abundant with shoals of brightly coloured fish and aquatic mammals. Here, you can see over 1000 different species of fish, and be amazed as you view manta rays, pods of spinner dolphins, blue and melon-headed whales in their natural habitat.
Travel by boat to discover the smaller islands that make up these magnificent atolls. Snorkel in the azure waters and observe the plethora of turtles, rays, fish and various other sea creatures which make these fisheries their home. Experience a dining destination like no other on the dazzling white sand flats. Explore the islands and atolls by foot and learn about the ecosystems, wildlife, flora and fauna with one of our knowledgeable marine biologists. Join the Island Conservation (ICS) team on their daily surveys to track and monitor turtles and their hatchlings, tortoises and birds that inhabit the islands and atolls, or simply enjoy exploring on your own. Blue Safari Seychelles offers a world of adventure whilst providing the perfect setting to relax and unwind as you absorb the authentic spirit of the islands in stunning surroundings.
Non-divers can enjoy the abundant and colourful sea life on snorkelling safaris. Our snorkelling destinations are home to an array of stunning marine species, untouched coral reefs and exceptional underwater scenery. The snorkelling sites around the islands and atolls offer wonderful experiences at different depths. The different islands and atolls allow for great snorkelling opportunities and the chance to view and snorkel with turtles, manta rays and sailfish – simply sensational!
THE BEST SNORKELLING SITES IN THE SEYCHELLE
With a wide variety of dive sites waiting to be explored, the outer islands and atolls of the Seychellesare the ultimate destination for divers. Mammals, reptiles, sharks and shoals of technicoloured fish in large numbers, attract divers of all levels and famed underwater photographers from across the globe who wish to capture the diverse aquatic life. Remarkably different dive sites with sheer drop-offs covered in soft corals and expansive hard coral plateaus are home to exceptionally healthy and varied fish populations. The wide range of marine territories all contribute to the fantastically diverse ecosystem and create a mesmerising spectacle for any underwater enthusiast. Whether you are a seasoned SCUBA diver or want- ing to dive for the first time, Blue Safari Seychelles has everything you need. A dynamic and highly experienced team with years of diving experience and a vast knowledge of the sites in the Seychelles, will expertly guide and seek out the best dive sites for you and will ensure your marine experience is personal, safe and unforgettable
Considered a fly anglers paradise, the expansive flats surrounding these islands and atolls provide an experience of a lifetime. Tens of thousands of acres of pure and pristine sand flats provide easy wading and world-class site fishing. The islands and atolls are home to astoundingly large populations of bonefish, three types of triggerfish, indo-pacific permit, giant trevally, bluefin trevally, golden trevally, brassy trevally, yellow-dot trevally, barracuda, snapper, grouper, parrotfish and the incomparable milkfish. To guarantee guests the ultimate fishing experience, an international team of guides, boat captains and qualified managers are on hand to share their passion for this unique fishery and its environment. Blue Safari Seychelles practices a strict catch and release policy for all fish caught on the flats and has various monitoring and research programs in place to ensure these islands and atolls are fished responsibly and remain pristine and wild.
The unspoilt waters of the outer islands and atolls of the Seychelles are home to the most incredible variety of blue water fish species, translating into a great destination for offshore fishing. The structure and sheer drop-offs are ideal for attracting a variety of pelagic species such as sailfish, wahoo, dogtooth tuna, yellowfin tuna and dorado that can be challenged on any given day. Due to our conservation policy, no conventional angling is permitted inside the lagoon, next to, or on the reef that surrounds our majestic paradise. This helps preserve the marine life.
Alphonse Island is the starting point for exploring the islands and atolls that form the amazing experiential concept that is Blue Safari Seychelles. Located 400 kilometres south-west of the mainland of Mahé, Alphonse Island is reached by a one-hour flight from Mahé. It is part of the Alphonse Group of Islands, which also includes the wildlife haven of St François (home to red-footed boobies, frigates and wild mangroves) and the petite, yet the stunning island of Bijoutier. First recorded in 1562, the history of these islands tells the change from the production of fruits and vegetables to the present day, exotic paradise. Once in the ownership of merchants, Mauritian families and the British Government, Alphonse Island is now known for its commitment to the environment and devotion to conservation. Alphonse is the very first island in the Seychelles to become reliant on solar power and go completely 'off the grid' thus reducing the island's emissions by 718 tonnes per annum.
Due to its remote location, the Alphonse Group of Islands are host to a variety of native vegetation, stunning animal life and outstanding marine life that call the surrounding azure waters their home. Green and hawksbill turtles lay their eggs along the white shores, and with over 130 bird species recorded, guests can expect glimpses of red-footed boobies, greater and lesser frigates, wedge-tailed shearwaters, black-naked terns, crab plovers and brown and lesser noddies to name just a few. The island is also home to free-roaming Aldabra giant tortoises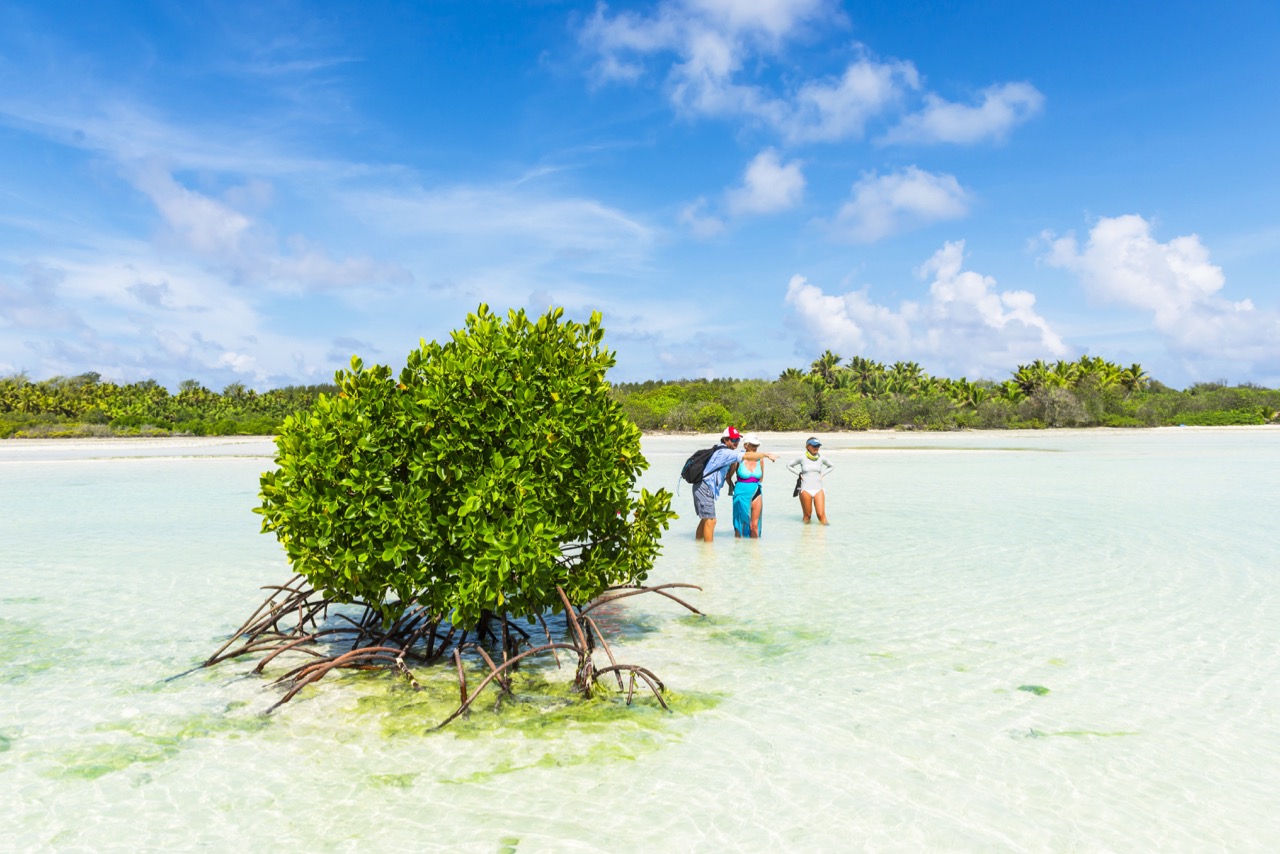 Alphonse Island is nothing short of exceptional. Offering a tropical haven, perfect for unwinding and relaxing whilst also delivering extraordinary land and aquatic based adventures. A complete island experience, guests can do as much, or as little as they desire. The central dining and bar area allows guests to socialize either by the sparkling pool or shoreline and offers the very best of traditional Creole cooking, inspired by the island atmosphere. Fresh produce straight from the island's farm and freshly caught fish are always on the menu. Diversity is key, and daily dishes include Asian inspired cuisine and sensational sashimi, complemented by a comprehensive wine list.
The activity centre and 5-star accredited PADI dive centre on Alphonse is the hub for marine-based excursions, diving and snorkelling. The fully equipped fishing centre and fly shop is well stocked with flies, rods and reels, as well as specially designed clothing, exclusive to Alphonse Island. The Azure Spa is the perfect place to relax and revive weary bodies and the boutique has plenty of crafts and jewellery, inspired by the beauty of the Seychelles. Freedom of movement around the island on foot or bicycle permits self-discovery of the wonders of this special place
Accommodation at Alphonse Island has been thoughtfully designed to blend in with the natural environment. Built beside the water's edge, with scenic ocean views and nestled amongst lush tropical plantations on the eastern shoreline, the Suites, Bungalows and Villas are decorated in hues that complement the island. The raised Beach Bungalows each have an outdoor shower, a separate bathroom and a bedroom with veranda. The
Beach Suites are spacious, with a living area, private infinity pool and mezzanine bedroom. An expansive sun terrace is perfect for enjoying a morning coffee or relaxing with a cocktail in the evening. The Beach Villas each have four spacious double bedrooms, all with private en-suite bathrooms and the expansive living and dining areas are perfect for families or for sharing with friends and loved ones. A central private pool with wrap-around sun deck is the idyllic spot for relaxing whilst the waves of the Indian Ocean provide the dreamiest natural soundtrack