The Global FishingEarth Difference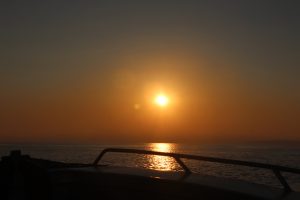 There are 117,000,000 lakes on this earth, 1427 rivers on this are and over 200 million creeks and streams on this earth. Not forgetting the seven seas and five oceans on this earth. Even if you were to cast only once into each of these waterways it would take 100 lifetimes to just get started.
Combine this with mass media and social media bombardment of everyone seemingly catching monster fish in perfect conditions making it look easy. Typically a fishing show spends five days getting the footage to put together a 22 minute episode. Things can get confusing quickly.
The team at FishingEarth understand that we don't have 100 lifetimes to achieve our fishing dreams and we also understand that you want more than 22 minutes of action.
That is why we have created the FishingEarth experience. As a fishing adventure connector we work to make sure that you have the best fishing options possible. FishingEarth works on making sure we can control the variables like minimising the amount of time spent between flights. If you don't like hot weather we won't send you to the Northern Territory in December with the overnight temperature can be 32°. The FishingEarth experience looks beyond just the fishing without forgetting that the fishing is a vital part of the experience.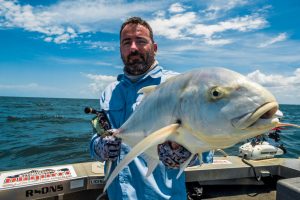 Our support does not end the moment that you book a FishingEarth fishing experience. We keep in regular contact with you to make sure everything that you need to do regarding flights, accommodation and visas are sorted. Speaking of flights we believe that there are two places worth being when going on a fishing adventure one of them is at the actual location, and the other one is safely home. Every effort is made to make sure that you have the absolute minimum wait time in airport lounges.
We make sure that any medical and/or dietary requirements are known by the location well in advance. Even though you are going fishing, you may not enjoy eating fish every night we make sure the location knows what you want. Where possible we also make sure they have your favourite alcoholic and non-alcoholic beverages. FishingEarth makes sure that you have all of the right gear you need right down to the type of footwear you need at night.
We understand that everyone has different medical needs and we also understand that everyone has different insurance needs. FishingEarth makes sure that these are all covered off before any booking is made.
As much as we love booking people in for a FishingEarth fishing experience our number one priority is that you have a safe and enjoyable trip and you get home safe and sound.
Doug Leoni CEO and founder of FishingEarth (adventure fisho at large, camera, film & drone specialist)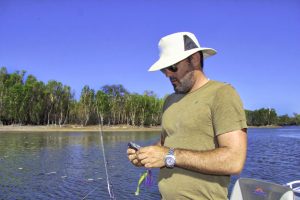 After graduating from university as a mature age student in 2006 I was suddenly thrust back into the employment market competing with sharply dressed 22-year-olds. I needed to do something different and that something different turned out to be FishingEarth.
Growing up on a sugarcane farm and a cattle station taught me the job done right is a job you don't need to worry about once completed. Often it is the little things that are the difference between an experience of a lifetime and an experience that you would rather forget.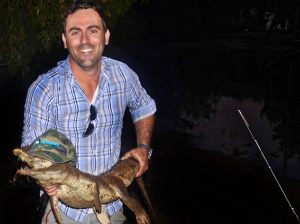 As a fisho for as long as I can remember I love helping people plan their yearly fishing adventure or indeed planning a fishing experience of a lifetime.
As a kid when fishing the rivers of North Queensland using bread as bait if the bread was fresh and the fish weren't biting it was okay because we had delicious freshly baked bread to eat as we sat on the riverbank.
Unfortunately from time to time the fish don't want to play ball. As the founder of FishingEarth I work to control the things that we can control to make sure that if the fish are not biting you have that freshly baked loaf of bread.
Captain

 Leo "the skipper'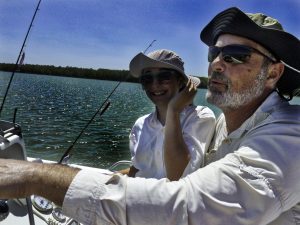 Some people are born with certain know-how and can seem to get things done others study diligently and develop their knowledge base and ability through repetition and solving problems. Capt Leo has the best of both of these qualities. As a teenager, he would split his free time between sport, fishing and helping his father earthmoving business. Maybe the only 13-year-old on earth that could tie a fly than catch a barramundi play a game of football and then drive a Caterpillar D7 bulldozer in the one day.
His ability to get things done and solve problems has made him an essential member of the team. When something needs to be worked out Leo is to go to person.
Having spent much of his 20s and 30s travelling the world exploring new fishing locations and forming relationships with guides and local fishos alike that still are strong today some almost 25 years later.
Michael 'Mick' Johnson (fisho journalist at large)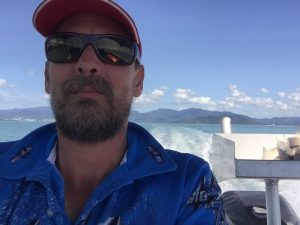 As difficult as it is to believe given the social media and marketing strength of the flyfishing industry not everyone is a devout fly fisho. Mick like everyone on the team enjoys casting the long wand (apart from Brutus) but, he does epitomise what FishingEarth is as a company.
His first visit to London from the wilds of northern Australia the customs officials at Heathrow airport thought they had to be something up with this guy who was talking to everyone. He enjoys the experience and understands that people's time is limited and without a doubt their most valuable asset. He is a strong advocate for fishing adventures with friends and/or family being crucial to our future mental health. He has heard of email, but he is the guy that you want to talk to on the phone. The chalk streams in England didn't know what hit them when he arrived but everyone to a person enjoyed his company and they welcome him back with open arms.
Dave Leoni (helicopter pilot & backcountry heli fishing guide)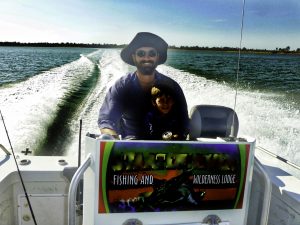 Working as a qualified diesel mechanic on a truck one afternoon, Dave, decided that he was going to follow his uncle's path and become a helicopter pilot. 12 months later he started his career flying helicopters (R22 Robinson's) mustering million acre property is in northern Australia. Having grown up on a cattle station himself, he felt as though he was back home. Glen Eagle had almost 30 miles of river flowing through it which was full of one of Australia's best freshwater sports fish the sootie grunter. After days mustering or fence fixing day would take himself down to the river fishing until dark. Australian helicopter pilots are in demand all around the world, and it wasn't long until he was travelling the globe flying helicopters servicing and repairing high-voltage power lines.
I'm not sure if you've noticed, but helicopter pilots seem to be treated like demigods wherever they go. Everybody wanted to take Dave fishing… Now that he has almost 20 years flying under his belt he is becoming known as the go-to pilot for Heli fishing the remote parts of northern Australia. Dave's mechanical and helicopter flying experience is helping us build new relationships with remote locations looking to create their own fishing mecca.
Craig 'Brutus' Newbold (big game specialist & logistic expert)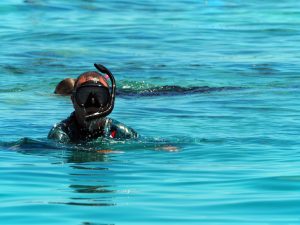 Lee Marvin, Jack Erskine and Patrick Gay put the big game fishing in far North Queensland and Lizard Island on the map. They created a whole new industry for those that want to catch the worlds most iconic weighted fish the one thousand pound marlin. Jack Erskine was at the forefront of big tackle innovation developing new methods to stop these monsters of the Coral Sea. It is not just the boats in the tackle that changed, but the skippers that were driving the boats became known as some of the best on the earth.
20 years ago a charter boat skipper from down south decided to give it a crack and ventured up to Cairns the gateway to the Great Barrier Reef and indeed to the Coral Sea grounds where these monsters are caught. More thousand pound fish I caught each year in the waters north of Cairns then the rest of the world combined Craig hit the ground running getting a job as a deckhand under one of the most respected game boat skippers in the business.
Apart from the learning curve, Craig found that there was an inordinate amount of time where everyone was seemingly doing nothing. Yes, the skipper was busy making sure that the baits are in the right spot at the right speed. It is during these downtimes that Craig not only learn how to be a game boat skipper, but he also discovered a new style of service and entertainment for the clients.
It is that expertise that makes him a valued member of the FishingEarth team. There is not a problem that he cannot think through and work out a solution for when it comes to a fishing adventure/charter. His meticulous attention to detail keeps us all on top of the job at hand, and that is getting you to the best fishing locations on earth and then back home safely.