The Hunter's Cabin affords views of Long Marsh Lake. Four bedrooms provide flexible accommodation for up to eight people. The cabin has a full kitchen with dining and lounge areas, TVs, DVDs electric blankets and a wood fire. Enjoy a BBQ on the deck with outdoor seating.
The hunter's cabin ideally situated to take advantage of the natural views down to Currawong Lakes. Over a big breakfast as you discuss your day's activities you will be constantly drawn to the view of the lake and the temptation that your fly rod is offering you. The thought of making another cup of coffee and just sitting enjoying the 'Serenity' will be just as tempting as picking up your fly rod.
The midsummer night's air is still so fresh and crisp that we are tempted to light the large log fire. Outside, the clear lake is a mirror, reflecting an extravagant spray of stars.
Hours pass happily in the comfort of the Owner's Lodge, which is smartly designed to ensure every bedroom has a water view. The well-equipped kitchen opens onto a generous living area. The brown leather couches, stuffed duck on the mantelpiece and surplus of wood furnishings remind me of a laid-back gentleman's club.
There's no mistaking what we are here for. Stuffed trout stare from a glass cabinet by the front door. Fly fishing books are arranged neatly on the coffee table, including Robert Hughes' A Jerk on One End: Reflections of a Mediocre Fisherman.
"People say this is the middle of nowhere but I think it's the middle of somewhere," says Meryn Krimmer, as we stand by the lodge at the lake. It's near dusk and squads of ducks are scattered about the water, feasting on insects among the reeds. There's a splash as an ugly great brown trout catapults into the air to snare a loitering bug. Teeny birds are perched along the back deck, nattering away. "Welcome swallows," Meryn calls them. The "somewhere" that we're in the middle of is Currawong Lakes, a remote fly fishing retreat in the highlands off Tasmania's east coast.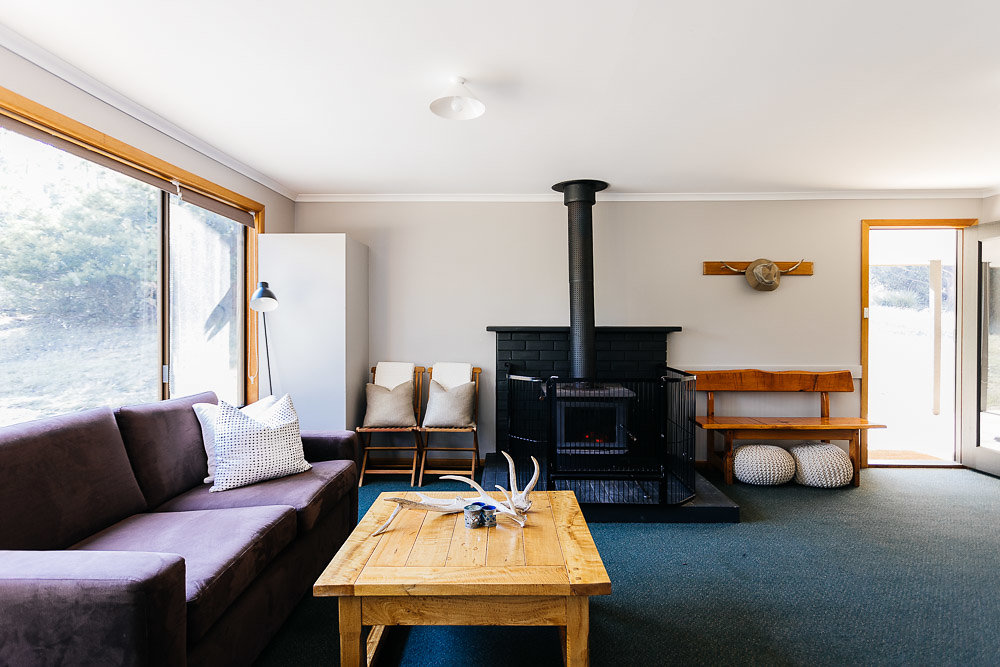 It sits at the end of a 12-kilometre dirt track, hemmed by dense forest and conservation parks. We arrive late afternoon, our white sedan like a relic from a dust storm