The FishingEarth Difference
FishingEarth.com provides everything you need to know about fishing adventures in anywhere in Australia, or for that matter anywhere on earth.
We cover everything from the fish that can be caught, to the styles of fishing that can be enjoyed, the best places to fish and useful information on fishing tours and trips. If you something in mind, then we can help to create your fishing adventure for you.
As well as providing information on fishing FishingEarth works closely with regional businesses to bring you the best local information on our FishingEarth destinations. Information such as where to stay if you're on a budget, activities for the kids, or where to get a great cold beer or a freshly made burger – these are all important when you're on holiday.
Whether you're local to the region and want to use FishingEarth.com as a reference guide to all things fishing, or you're an interstate or overseas angler who wants information and assistance on creating the fishing adventure of a lifetime, we are here to help.
How to book:
1)      Browse through our fantastic range of destinations
2)      Contact us on 0447 789 777 or email info@fishingearth.com
3)      We will book your destination and provide you advise on what you need to bring
We will provide you with simple advice, book a fishing trip for you and the family to enjoy on your FishingEarth Fishing Adventure, or create and take care of every detail of your FishingEarth Fishing Adventure.
Not ready to book right now? Then register your details with us today and we'll provide you with regular updates on the latest fishing news, competitions and special deals. Or call us on 0447 789 777  and discuss your fishing adventure plans.
Family Fishing Adventures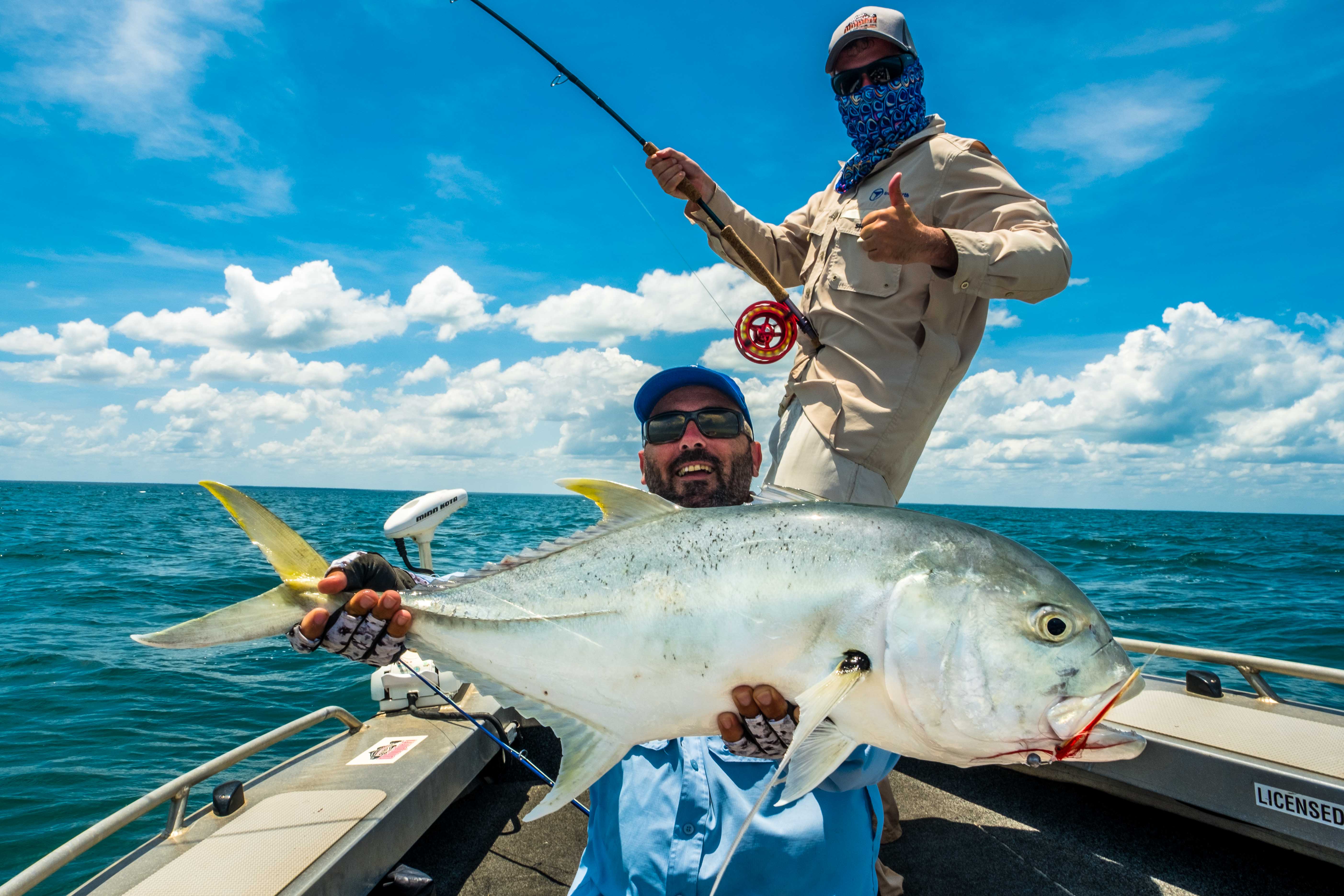 Behind the Scenes with Doug, founder FishingEarth:
FishingEarth.com has been a dream of mine for a number of years and now after almost 10 years in the business we know what we are doing.
Born and bred in North Queensland, I've grown up with a passion for fishing and a determination to develop that passion into a business that helps others to enjoy their passion for fishing.
Growing up on cane farm on the outskirts of Cairns and then a cattle station on the Herbert River three hours south west of Cairns gave me plenty of opportunities to fish as a kid. With every available moment spent fishing rives, estuaries and reefs around North Queensland. Some of my happiest memories as a kid are times when I had a fishing line in my hands with friends and family.
As a kid I would watch the Qantas ads with the Peter Allen song 'I still call Australia Home' I was fascinated by the images flashing before my eyes on the TV. So like many Australians the travel bug bit me in my early 20s and I spent quite a bit of time firstly traveling to remote locations in Western Australian and the boarder of Queensland and the Northern Territory as an exploration field assistant in the mining industry.
I spread my wings a little further and headed to Europe in search of great adventure. Landing in London I spent every available pound on plane and train tickets, seeing as much of Europe as I could, whilst working in Finance for several large companies.
Of course, there has never been a place on Earth that I have travelled to without some type of fishing rod or line. I have fished the Thames in London, fly fished the tidal waters around Mont Saint-Michel in Normandy France, fished the waters off Sydney, Perth and Melbourne, hunted wild brown trout in Tasmania's lakes and rivers and fished Victoria's trout streams just to name a few locations.
Plan your Getaway with FishingEarth
FishingEarth offers you the best fishing charters, fishing adventures, corporate retreats, holiday destinations and family adventure holiday packaged and destinations throughout Australia and beyond. We have researched the best possible tides, in the best possible locations – accurate tides and a well planned holiday or adventure by professional's means the difference between an awesome fishing trip and a very disappointing adventure. Avoid disappointment and contact FishingEarth today – we are independent fishing adventure and fishing charter specialists. Stress free holiday and adventure bookings.
 Book you fishing adventure with FishingEarth today!
Book your ultimate FishingEarth experience today by emailing us at info@fishingeach.com or phone
0447 789 777 with your available dates and we will match you with an experience of a lifetime! We will make all the arrangements and provide you with advice on what to take and best of all, we know exactly what we are talking about.
Contact Us:
Gillie Greenberg
Gillie
The aptly-named Gilad Greenberg, known by most as Gil or Gillie, has always felt most at home when on the water. Growing up in Toronto, Ontario, he spent his summers bass fishing with his uncle and father. At the age of 18, Gil bought his first fly rod to experiment with on an annual family fishing trip. Armed with the knowledge one gains from watching hundreds of online how-to videos, Gil managed to land 6 decent pike on his first morning. As many great fishermen before him, he was instantly hooked on the fly. 
Upon finishing his military service a few years later, Gil moved to Australia to study marine biology at James Cook University, located right on the Great Barrier Reef. Spending more time on the flats than in the classroom, Gil became obsessed with fly fishing as a way of life. It was a steep learning curve but with the help of his fishing partner Brad Morris and his mentor Bill Mitchell, he became quite a proficient angler and placed well in local tournaments.
Being able to combine fly fishing with marine biology has granted Gil access to contacts and locations that most anglers can only dream about. In 2015 he was offered a job by the German government to gather fisheries data as part of the Choiseul Climate Change Vulnerability and Adaptation project. The project was located hundreds of miles away from civilisation as we know it, in a remote corner of the Solomon Islands. The process of spending a season off the grid and living off the sea solidified his dedication to fishing as a way of life. In total, Gil has fished over 20 countries, spanning 5 continents.  He brings experience, passion, and enthusiasm to the FishingEarth team.
"My favourite part of fishing is not about catching the fish, but learning how a fish interacts with its environment.  I tend to always ask myself why a certain fish is where he is or why he is behaving in a particular manner.  If after a day on the water I am closer to answering these questions, I consider the day a success."
Doug Leoni
Dougie